Smart Metering: A Modern System for More Accurate Bills
The Sewerage and Water Board's Smart Metering Program is underway. The program will replace nearly 140,000 water meters with reliable, efficient, and industry-proven digital technology. This smart metering system will allow us to accurately measure and bill customers for the water they use.
The Smart Metering Program was designed to resolve challenges stemming from the age of our water distribution system. SWBNO's average residential water meter is 14 years old. The current meters are old-fashioned and must be read manually. They are also known to gradually lose accuracy over time, often under-recording water use.
In contrast, our digital smart meters will take frequent, automatic readings. They transmit data directly to SWBNO and a customer dashboard, and they use built-in diagnostics to ensure accurate readings for accurate billing. The smart metering system will also provide data to help detect small leaks for customers and monitor the larger drinking water system, an ability SWBNO has not had before. This will reduce water loss for SWBNO and customers, increasing the overall efficiency of the drinking water system.
Responding to Customer Needs
Smart metering will give customers new reasons to be confident that bills reflect their actual water use.

Nearly eliminates estimated bills

Accurate, frequent readings

Automatic meter diagnostics
Advanced Tools
Once installed and connected to our wireless infrastructure, smart meters will send water use data to an online portal. Customers will have access to detailed usage information online so they can actively self-manage their water expenses. The portal will also offer immediate notifications of possible leaks and the ability to compare water use to that of previous days, weeks, and months.

Leak detection

Customized alerts

Online customer portal
Installation Schedule
After years of planning and preparation, this much-needed investment is moving forward. In December 2022, the SWBNO Board of Directors approved the final installation contract with Aqua-Metric, a smart meter vendor. With the contract in place, Aqua-Metric began work on the wireless communication infrastructure that will securely send water use data from the smart meters to SWBNO's billing system.
We anticipate the installation of meters for all 140,000 of our customers to take approximately three years.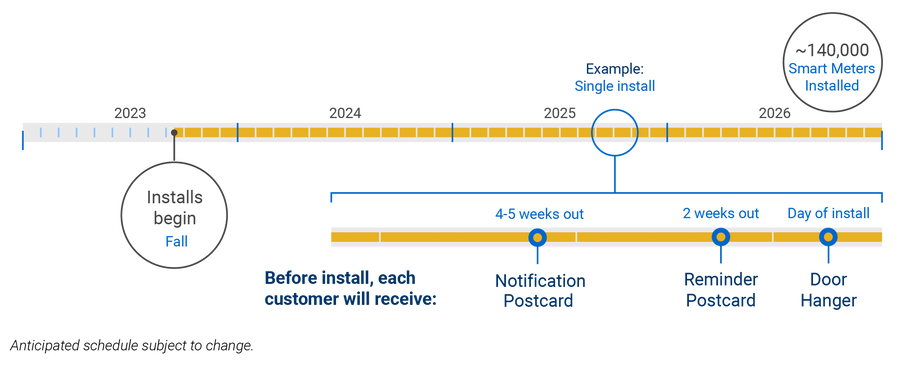 Before installation, each customer will receive two notification postcards, one approximately four to five weeks before the meter installation and another approximately two weeks in advance. The installation team will leave a door hanger at each address on the day of the installation
Frequently Asked Questions